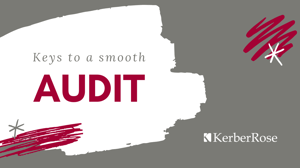 Audits can be complex and confusing. KerberRose is here to provide insight as to what the audit process looks like from an auditor's point of view, and to give tips for having a smooth audit.
Most audit clients accommodate the auditors very well. They understand the auditors are there because there is a requirement for an audit and the auditor is there to help. As auditors, we get to know your organization, so we are confident we can assist you with many other aspects of your business.
Audit Processes
Audits are usually split into three phases: planning, fieldwork and post-fieldwork.
During the planning phase, the auditor gathers information and strategizes for the whole audit process. This is when you are asked many questions; such as, how the year went or if anything significant happened to the business. The auditor is trying to see if there is anything to be aware of and if they need some additional disclosures for the financial statements. If there are any new accounting standards, the auditor will ask if the standards have been implemented and whether you've done anything differently in response to them. This may affect which types of transactions we look at and may also determine what is disclosed in the financial statements.
The auditor then looks at details of transactions and account balances, during the fieldwork phase. Once the auditor starts looking at the details, there will always be follow-up questions. This is also when the auditor will notice if there are any deficiencies in how the organization's processes and transactions are done. Auditors aren't just looking for errors, they are looking for ways to tighten up controls and improve the way you conduct business. You may think the audit is done when the auditor leaves your office; however, this is usually not the case. There are usually pending questions or missing documents to address prior to finalizing.
Post-fieldwork is the wrap-up phase, and the time to prepare the financial statements, along with getting those final pending questions answered or receiving an invoice which couldn't be found. This is also the time when auditors tend to be forgotten. We understand you probably want a break from us after fieldwork; however, once we move onto something else it's difficult to recall what some of the open issues were. Prompt follow-ups will make for more efficient work and less stress when it comes time for the deadline. Post-fieldwork is also the phase when the audit is internally reviewed, so there are likely more questions to be asked in order to get everything wrapped up. You should be able to see the pattern by now: we never stop asking questions, so you should expect this as a large part of the process.
Preparing for Your Auditor
Most audit clients receive a list of requests – known as a Provided by Client (PBC) list – a few weeks in advance of the scheduled time to perform the audit. This is usually detailed with what we need in order to get started on the audit. Inevitably, there are things that don't make it onto the list. Usually, this is due to something occurring within the business during the year which the auditor is not aware of; such as leasing a new building or taking out a new loan, which will lead to follow-up requests throughout the audit process, possibly slowing the audit down. Therefore, it is crucial when preparing for your auditor to be upfront and honest about your business's history.
In most cases, the PBC list has dates on which the auditor would like to receive the information; these dates are important for the audit to stay on track. Some of the information the auditor is looking for, in advance of fieldwork, is general information about the business and especially a trial balance. The auditor needs some time before fieldwork to plot a strategy and determine what is important to focus on during the audit.
This year, some of the planning, and the audit as a whole, has been and continues to be a little different due to the Coronavirus (COVID-19) pandemic. At KerberRose, our approach has been to perform the audit remotely, and in some cases, the whole audit process has been stretched out and is done in steps. As more changes are made, we will keep our audit clients informed on the process.
How Can KerberRose Help?
Throughout all phases of the audit, opportunities may arise where KerberRose could be of additional assistance; these opportunities may come up throughout the year, as well. Some may think of us as just your audit firm, only showing up once a year to perform your audit; however, we can help with many other aspects of your business or organization. If we find some areas where the internal controls aren't quite what they should be, we can provide some suggestions on how to improve them.
Amidst the COVID-19 pandemic, many of our clients enlisted the help of KerberRose to receive their Paycheck Protection Program loans. We can also assist with tax planning for the business and its owners, succession planning, provide guidance on how to best utilize QuickBooks and much more. These are just a few examples of what KerberRose specializes in, and we want to be the one you call whenever you have questions or need to talk something through, in regard to your business or organization.
Please do not hesitate to contact us, and we will do the same. If you need to schedule an audit, contact our Audit Team at (715) 526-4595 or visit www.kerberrose.com/advisory-services.
Action points
Here are a few action points for you to consider, during your audit:
Try to have as much information as you can prepared for your audit.
Respond to your auditor's questions promptly.
Expect more questions.
Contact us whenever you might have the need. Even if you don't, we love to hear from you!